Bar/Bat Mitzvah Event Space near Newark Heights,NJ
When you are looking for a great Bar Bat Mitzvah Event Space near Newark Heights NJ , 4Sixty6 Caterers in West Orange, NJ is the place to be! It's the perfect venue if you're in search of having a party that does not stop. Leave it to us at 4Sixty6 Caterers to ensure that your child will have an unforgettable Bar Mitzvah or Bat Mitzvah and your guests will have unforgettable memories. Our catering venue near Newark Heights, NJ has the perfect space for all of your friends and family to enjoy themselves.
Known for its modern, club-style vibe and glamorous finishes, 4Sixty6 Caterers event space is 15,000 square feet of pure fun!  Our event space near Newark Heights, NJ is perfect for unique weddings, quinces, sweet 16 parties, and corporate gatherings for up to 1,000 guests. A great mix of industrial and glam, 4Sixty6 Caterers event venue features multiple floors of entertainment, a rotating dance floor, LED light walls, modern crystal chandeliers, exposed loft ceilings, elegant draping, and a multi-million dollar club lighting and sound system that even Las Vegas and Miami nightclubs would be jealous of! If that isn't enough to give you an idea on how awesome 4Sixty6 Caterers is, imagine spending your party under the largest overhead disco ball in America!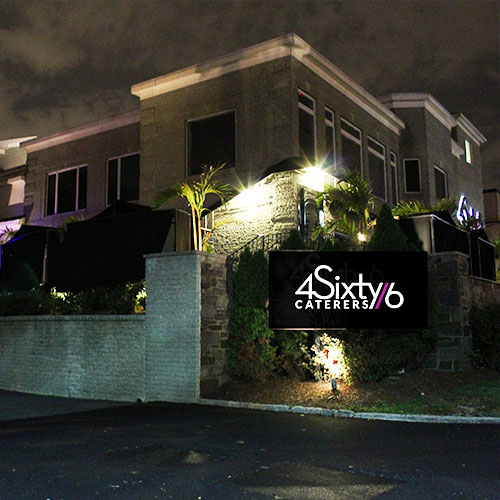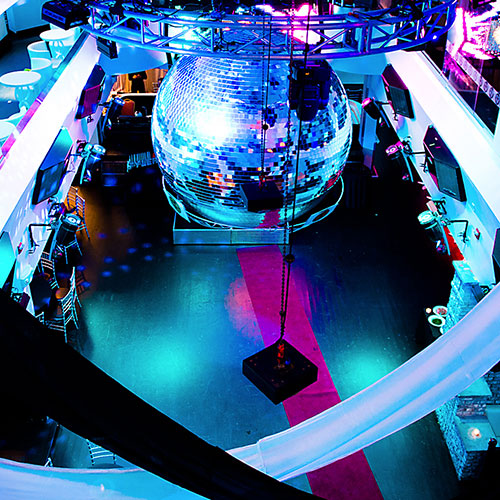 4Sixty6 Caterers event space near Newark Heights, NJ is a stylish club-style Essex County event space that's centrally located in the heart of West Orange, NJ right off I-280 on Prospect Ave. If you are looking for an event venue that will BLOW YOUR GUESTS AWAY when they come inside, come and see the hottest NJ event space ever built.
With 3 decades of catering experience under our belt, our menu for your child's Bat Mitzvah or Bar Mitzvah will be beyond your expectations. Our culinary team at 4Sixty6 Caterers near Newark Heights, NJ can cook up any menu that you have in mind. You think of it and we'll create it. We are more than happy to prepare custom menus for all your dietary needs, as kosher menus are available.
4Sixty6 Caterers' unconventional event setting is part of the allure with massive LED spotlights, a red carpet and velvet rope entrance, and still keep your event style a surprise for your guests. 4Sixty6 Caterers event space excels at being a fully customizable venue that can be transformed anyway you would like. No room dividers here – you and your event are our only star for the evening! No other events go on when you have your event at 4Sixty6 Caterers event space. No worrying about waiters running around in a restaurant setting, no sharing the bathrooms with hundreds of other guests, or hearing another wedding or mitzvah happening on the other side of a removable room divider. 4Sixty6 Caterers event space was specifically designed to feature your amazing event with convenience and style.
WATCH OUR SIZZLE REEL NOW!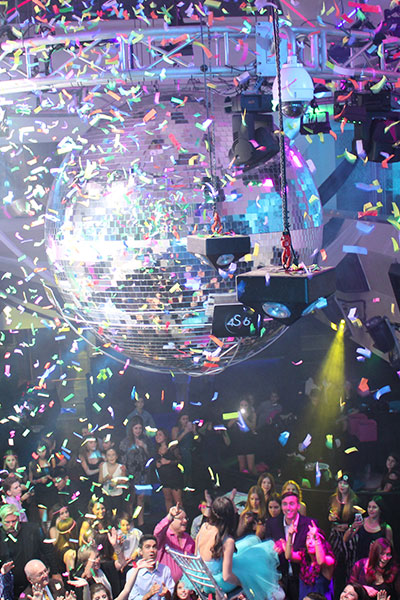 VENUE HIGHLIGHTS
OVER 15,000SF OF EVENT SPACE

CONFIGURATIONS FROM 100 TO 1000 GUESTS

2 FLOORS OF INCREDIBLE SPACE

5 DIFFERENT EVENT AREAS TO CHOOSE FROM

5,000SF PATIO AREA WITH CABANAS

COVERED LED ENTRANCE

STATE OF THE ART LIGHTING, VIDEO AND SOUND

ROTATING DANCE FLOOR

HUGE MAIN DANCE FLOOR

STATE OF THE ART LIGHTING, VIDEO AND SOUND

2 FULL KITCHENS (KOSHER AVAILABLE)

AMPLE PARKING WITH VALET AVAILABLE

4 MILES FROM GSP (EXT 145)

8 MILES FROM NJ TURNPIKE (EXIT 15W)
Hi Malcolm,

I'm sorry for the delay on responding here. The party was amazing! Everything we planned went so smoothly. I cannot thank you and your team at 4sixty6 and Richfield Caterers enough for your attention to detail in making sure that the event went off without any problems.

Everyone raved about the venue, the décor, the service, the food and of course, the energy of the club. Malcolm, you are a pro with your event planning and I truly appreciate all that you did to help me with ideas to make sure that everything was focused on Alec and making him feel special. Everything was executed flawlessly!

Of course, I am happy to be a reference for you and your team so feel free to have anyone reach out to me via email if they have questions about working with you.

Thanks again,

Jodi & Jason Meklinsky
Dear Malcolm,

It's hard to believe the big day is over! The party exceeded all of our expectations and you and your staff were responsible for that! Thank you so much for guiding us in all the right directions, I'm so happy I listened to all your advice. The party flowed so smoothly, the food was amazing, the staff was so accommodating and friendly and you were an absolute pleasure to work with! We felt so confident to follow all of your recommendations on food, decor and entertainment and it was all a huge success. Our guests had an amazing time and are still talking about the party. We wish we had another big occasion to share at 4Sixty6 but we will definitely recommend the venue and hopefully get to come back as a guest.

Do you still have the flash drive on your bulletin board? If so, I may send my mother to pick it up.

All the best,

Nancy & Andrew Finkelstein
Dear Billy and Malcolm,
As we finally "come up for air" after the weekend of our daughter's bat mitzvah, we had to write to you to say an enormous THANK YOU to both of you and your staff at Club 466 Caterers for the incredible, joyful, fun, delicious and impeccable bat mitzvah party we all enjoyed last Saturday.

All week we have been hearing from people about how graciously your staff treated our guests, how delicious and abundant the food was and what a spectacular event location your club is. Despite our long attendance list, there was so much room for everyone. The food was plentiful and fantastic, your place looked great and our guests enjoyed every minute of the party. The people on your team who worked the party were true professionals, showing grace and kindness to our guests. You did exactly as you promised us—you delivered a wonderful event which our daughter Ally now says was the "best day of her life."

Please know how much we appreciate the great lengths you went to in order to be sure that we had a wonderful day. No details went unnoticed and we are incredibly grateful to both of you.

I would also like to add that we were stunned and completely touched that Billy, even during his time of grief, came to make sure that everything was going well. What a remarkable man you are.

With great thanks,
Jane and Mickey Schwartzberg
Every child is unique, therefore every Bar Mitzvah or Bat Mitzvah held at 4Sixty6 Caterers near Newark Heights, NJ, is specifically planned for your child. Our venue is filled with endless possibilities, let us help you celebrate your child's milestone.
To schedule a private tour and food tasting at 4Sixty6 Caterers, please contact us below or call us at 973.474.9896 .
[fusion_widget_area name="avada-custom-sidebar-essexmitzvahseopagewidget" background_color="" padding="" class=""